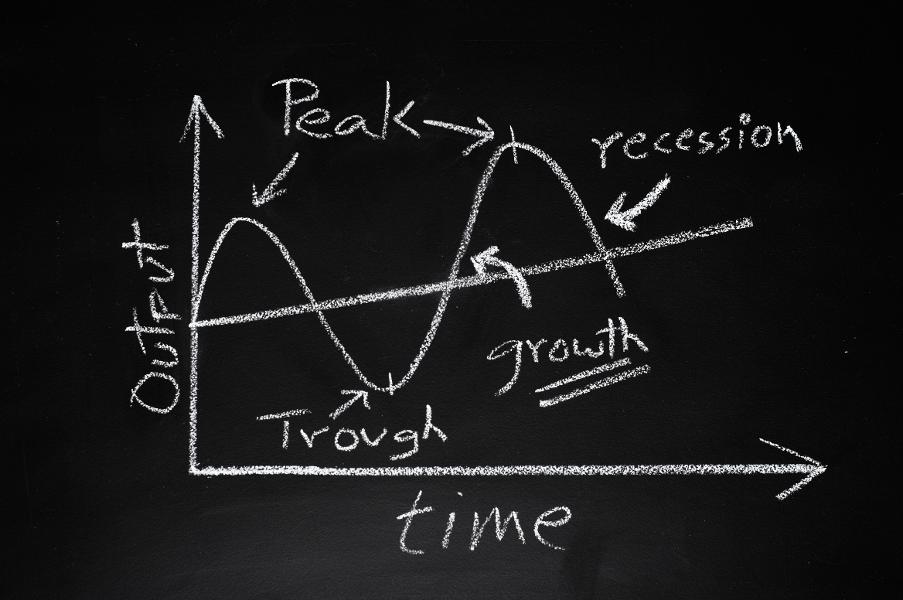 Recessions are a part of life. Painful as they are, they are a natural part of a healthy business and economic cycle. Although there are indicators and the fear of recession is on the rise, no one can actually predict when the next recession will hit. The only thing that can be said for certain, is we will experience a recession at some point.
What is a Recession
According to the National Bureau of Economic Research, a recession is "a significant decline in economic activity" that is widespread and lasts several months. Typically, that means shrinking GDP plus declining incomes, employment, industrial production, and retail sales.
Recessions come in all shapes and sizes. Some recessions are worse than others, like the 2008 financial crisis. Some are long, some are short. Some impact all parts of the economy, while others are more targeted to a specific industry. They can occur for multiple reasons, including external events such as wars or simply happen as a result of the economic cycle without inputs from the outside.
---
---
Are Americans Prepared?
Although the U.S. economy is starting to show some troubling signs, many Americans say they're not at all prepared for what might come next. Two in 5 Americans (or 40 percent) aren't ready for an economic downturn if it were to occur within the next six to 12 months, according to Bankrate's October Financial Security Poll. Nearly a quarter of those respondents (or 24 percent) said they were not very prepared, while 16 percent said they were not prepared at all.
Generationally speaking, millennials (ages 23-38) are less equipped than their elders to endure an economic downturn. Just 55% say they are prepared, compared to 57% of Gen Xers (ages 39-54), 66% of baby boomers (ages 55-73) and 78% of the silent generation (ages 74+).
Four Steps To Be Protected and Prepared
1 – Beef up your emergency fund. It's usually recommended to have 6 months of expenses saved. This can take a while, but the most important thing you can do is to start. Set a goal and a plan to get there. Automate savings from your account each month to be deposited into a separate account, just like you do with your bills. If you're having a hard time finding the extra money, see #2.
2 – Spend less. It's not fun or easy, but the numbers don't lie. To save more you have to spend less. Most people can cut 10-20% of their budget. The first step is to look at exactly what you are spending each month and create a budget. Divide those expenses into fixed (mortgage, power) and flexible (food, entertainment, travel). Go through those flexible expenses with a fine-tooth comb and cut where you can. If you have a decent emergency fund, you don't need to cut as much. If your emergency fund is light – be brutal.
3 – Pay down credit card debt. This is especially true if you have high interest credit cards. If there's a recession, your finances could take a hit. If you are only able to pay the minimum of these high interest cards, your debt is going to skyrocket. Worst-case scenario and you are not able to make payments, this will hurt your credit and more. Pay them down as much as you can now.
4 – Secure stable employment. If you are in a position that doesn't provide security and stability – this may be the time to find new employment. When a recession hits, you don't want to be an easy target for layoff. Or start looking for additional ways to make income such as freelance gigs or overtime.
A possible recession is not a reason to panic. At the core, preparing for a recession is just adopting basic healthy financial habits. Have a solid source of income, spend less, save more and pay off debt.
This article was written by Liz Frazier from Forbes and was legally licensed by AdvisorStream through the NewsCred publisher network.